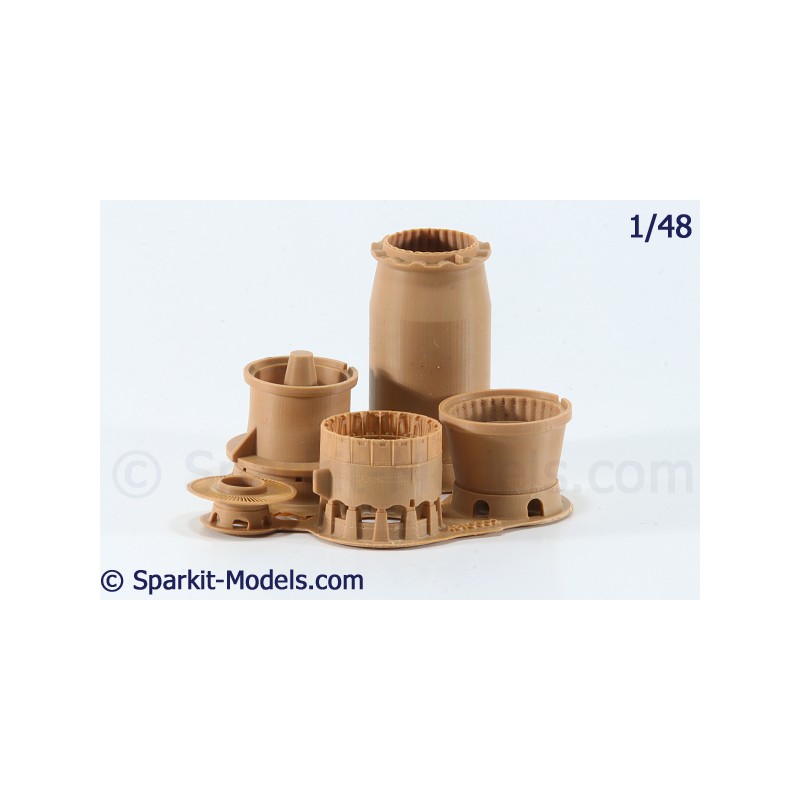  
Mirage IIIE/BE/R Mirage 5 - ATAR 9C Exhaust - 1/48
Designed for ground attack missions,  the Mirage IIIE differed from C version by its 30cm lengthened fuselage in order to accommodate an improved avionic as well as an increased fuel capacity. It was also equipped with an ATAR 9C jet engine in place of the 9B version. Intended for Kinetic's 1/48 kit, this set will replace plastic parts for a more realistic rendering. Not only nozzle is fully detailed but, combustion chamber with its post combustion system is also provided.
Parts for assembly and painting
Recommanded kit: 1/48 Kinetic
One of the most striking aircraft of WWII, the Junkers Ju87 was used by Axis forces on all fronts like during the Battle of France, the Battle of Britain or the Russian Campaign. During its career, the Stuka underwent several modifications, including one major that resulted in completely modified fuselage and wings resulting in D/G versions from 1942. The B version which, was used during the first part of WWII, can be divided between the B-1 and B-2 versions. The B-2 version can be easily identified with its bigger exhausts and adjustable cooling flaps. The R-2 version was a B-2 airframe fitted with 2 auxiliary tanks mounted under the outer wings. This set will allow you to easily enhance the aspect of the exhausts thanks to its hollowed pipes made possible by 3D printing. All you need it to remove freighter and paint parts before attaching them on your model in place of the original plastic pieces without additional modification or fitting adjustment.
Data sheet
Product Type

Resin parts to assemble and to paint

Scale

1/48

Number of Parts

5

Timeframe

1970s

Content

Instructions
Resin Parts

Secured payment, SSL transaction with credit cards, Paypal and bank transfers.

Order packing and shipping within 3 business days following payment.

14 days goods return policy. (See GTCS).